Balustrade Builder Free Shipping Offer
Posted On 2014-01-09 22:26:17 | Read 3177 times | 0 Comments
Get free shipping when on your entire order you use our Balustrade Builder and purchase a complete balustrade system.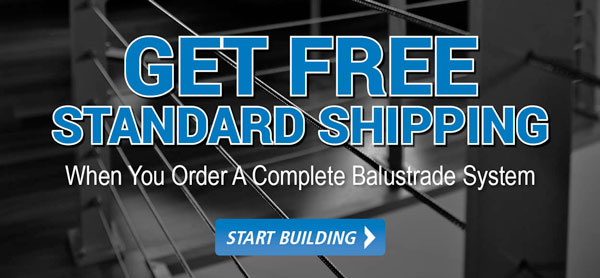 Have you tried our Balustrade Builder?
Whether you're in the market for a balustrade system for the first time or are a regular installer, our Balustrade Builder tool can help you place an order quickly and easily.
If you are unsure about what balustrade system would best suit your situation, begin by visiting our system information section and regulations page.

After you have chosen a balustrade system you can get started by making sure you meet all the requirements on the balustrade checklist. This will make sure you have the required measurements to use the Balustrade Builder. Now you can begin by choosing to build a balustrade for straight or stair sections. Our resource section has image galleries, installation videos and instruction sheets to help you get the job done.

If you have any questions during the process you can contact our customer service by calling 1800 022 122 or sending an email to info@miamistainless.com.au.
Free Shipping:


Receive free road express shipping Australia wide on your next order when you purchase a complete balustrade system using the Balustrade Builder. To redeem use the Balustrade Builder to create your balustrade system and add the finished product to your cart. From the cart page or at checkout enter Coupon Code BB2014 and apply.