This just in... The new Dome Hook Saddle from Stayput.
Posted On 2013-09-04 00:39:55 | Read 3133 times | 0 Comments
Fasten your vertical blinds with ease with this stylish and cost effective product.
Our latest product helps secure fabric covers without creating trip hazards.

Introducing the latest Stayput fastening solution, the Dome Hook Saddle. This makes a great addition to the Dome Hook range, developed as a cost effective option to secure vertical blinds to almost any flat and solid surface without creating a tripping hazard.

It is designed to be used with a JHook, strap and 25mm webbing but will also work with other hooks on the market. This product offers the same features and simple installation as the existing Dome Hooks but allows for a stronger, non-elastic anchoring method to be used.
Easy Installation

To install Stayput Dome Hook Saddles, use 2 x 8g screws and cover with the colour coordinated caps supplied.

There are currently 3 colours available: Black, White and Terracotta.
2013 Trade Balustrade & Shade Sail Catalogues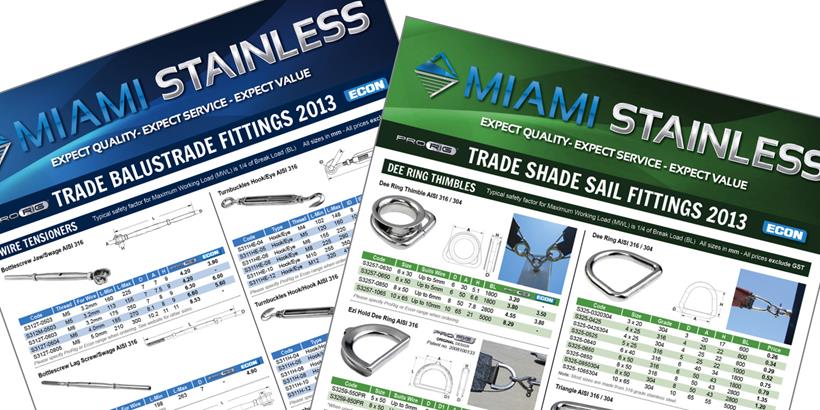 Our latest trade catalogues will be sent out at the beginning of October by mail, and interactive version available online for download by the end of September. They are packed full of content that includes a new product range and useful information in an easy-to-read layout. If you would like to receive a copy by mail, please ensure that your address is on our mailing list and up-to-date by contacting us using the details below.
Paperless Invoicing
We are now sending out all invoices by email to the address nominated on file. If you would like to nominate an email address for receiving invoices, or prefer to receive printed invoices by mail, please call us on 1800 022 122 or email info@miamistainless.com.au.