Why stainless steel balustrade?
Posted On 2014-02-18 01:43:40 | Read 7659 times | 4 Comments
Gone are the days of the bulky, fiddly stainless steel wire balustrade systems.
​
These days there is quite a range of great looking, slimline wire balustrade systems, which suit almost any application. Stainless steel wire balustrade is not only a stylish looking architectural feature that can be used externally and internally, but it is also very functional. There is a National Construction Code (NCC) regulation with clear guidelines for platforms, such as a deck, for safety reasons but these don't in any way make it harder to use stainless steel wire balustrade. If you are looking into using architectural wire balustrade then make sure you check what the NCC regulations are and find a reputable supplier who can give you the right advice.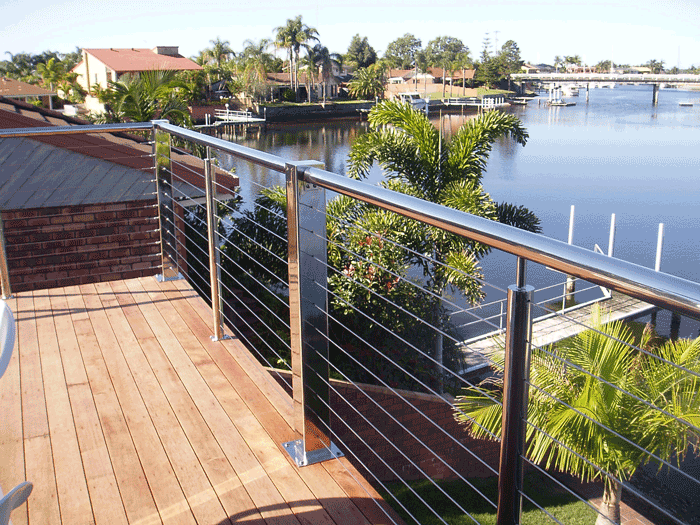 Stainless steel wire balustrade can be very easy to install depending on what system you select. It doesn't matter if you have timber or steel posts or have any stair sections, there are some really neat kits that look great and easy to install.
There are three great things about stainless steel wire balustrade. Firstly, wire balustrade doesn't restrict airflow like other balustrades can, such as glass. Think of how much cooler you can be with a bit of wind blowing through! Secondly, wire balustrade doesn't restrict priceless views.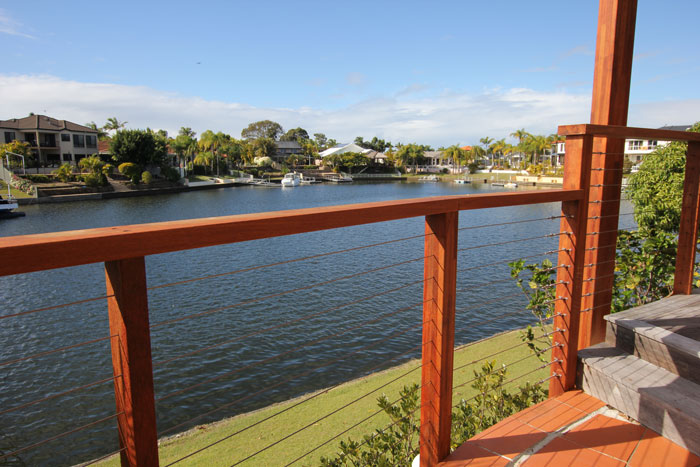 Some other balustrade solutions like Balusters are very bulky by design and therefore restrict those to-die-for views. Another priceless view killer is glass at night, with internal lights on it's hard to see past the reflection projected back from the glass.
Our final great thing about stainless wire balustrade is it's cost. Who doesn't like something of value! Compared to many other balustrade solutions, its overall value is very good. It is hard to give 'per metre' prices with wire balustrade due to the different amount of fittings required but for most projects the cost is less than 10% of the overall project. For example, if you have just built a deck for $20,000, a premium slimline wire balustrade system probably won't set you back anymore than $2000.
There are some drawbacks to using stainless wire balustrade such as tea staining, which is easily maintained but can be troublesome is some areas. Here's a great link explaining what tea staining is. A lack of streamline wire balustrade systems for stairs is also considered a drawback, this is partly due to the tension needed on the wire required by the NCC regulations. It is harder to design a functional system, which will comfortably accept the 1300 Newtons (N) on wires at a stair angle without having some sort of issue such as deformation of the stainless steel fitting, post or both. That's not to say there is no solution for stairs, there is just notas many options.
If you're interested in stainless wire balustrade or trying to compare different balustrades make sure you get advice from a supplier that you feel comfortable with. Most stainless steel wire and stainless steel balustrade fittings are imported from Asia and this in itself can cause issues. Not all stainless steel is quality, but that's a whole new topic… So until next time, we hope you have learnt a little something about stainless steel wire balustrade. Please leave your comments below and if you have a question, please ask and we'll try to get an accurate answer!