Wall Plate Diagonal 100 x 100mm Galvanised
OverView
Wall Plate 100 x 100mm Diagonal Galvanised
Wall Plate 100 x 100mm Diagonal Galvanised
Miami Stainless range of high quality ProRig heavy duty galvanised 100mm x 100mm wall plates are designed to be fastened to a brick or concrete wall with stainless steel or Nylon Anchors.
Diagonal Wall Plates are specifically designed to spread load across a wide area increasing the pull out strength.  Use the wide range of Miami Stainless Anchors to fasten the Wall Plates, these include Sleeve Anchors, Through Bolts, Screw Bolts and Coach Screws.
Stainless steel fittings commonly attached to Wall Plates include Turnbuckles, Toggle Bolts, Shackles and Wire Rope used with Thimbles.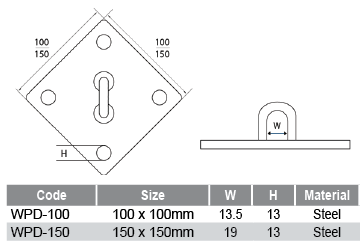 hiii