Get your expo on! Round up of STA2012
Posted On 2012-07-02 03:36:06 | Read 5788 times | 0 Comments
The corporate version of what went down at the STA Expo 2012.
One month on from the Specialised Textiles Association (STA) Expo held at the Melbourne Convention and Exhibition Centre and Miami Stainless are still on a high. Not only are we working on some exciting new ventures born from the Expo, but also we're already gearing up for next year!

STA2012 saw us armed with a new exhibition stand showcasing Miami Stainless' 10-year anniversary rebranding and gave us the chance to meet and greet many old faces as well as get to know a lot of new ones.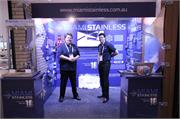 Many of our chats allowed us to gain valuable customer feedback on new product innovations and hear lots of positive feedback about the range of Miami Stainless and ProRig Original Design fittings. We would like to thank all our valued customers who continue to help us stay at the forefront of innovation.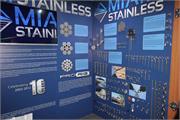 STA2012 also provided us with the opportunity to meet the new STA main man, incoming association president Lance St Hill and his team. After a great chat with Glen it is clear that STA will be in good hands moving forward.
A show highlight would have to be meeting V8 Supercar star Rick Kelly from Jack Daniels Racing who made an appearance at the HVG Fabrics stand. Big congratulations must go to our in-house marketing Guru, Tara, for taking out the Jack Daniel's Racing giveaway!
Of course, no Expo would be complete without some after-hours socialising with fellow exhibitors, which this year took place at the stunning Melbourne Crown Casino. For those of you who decided to stay in and get an early night, your loss!
STA2013 will be held in Miami Stainless' backyard when the beautiful Gold Coast plays host to a bigger and better show by collaborating with the Blind Makers Association Australia (BMAA). Miami Stainless is looking forward to working with all those involved at next years STA Expo and would love to hear from businesses that also plan on exhibiting.