Wire Rope Econ 3.0mm 7x7 AISI 316 305 Metre
Brands

Econ

Product Code:

WE03.077

Availability:
OverView
Wire Rope 3.0mm 7 x 7 Econ AISI 316 PER METRE
Wire Rope 3.0mm 7 x 7 Econ AISI 316 PER METRE
Miami Stainless supplies a high quality Econ 316 marine grade Stainless Steel Wire Rope. Econ 7 x 7 strand stainless steel wire rope is a semi-flexible, multi-purpose wire rope with a braided surface and bright finish, suitable for most applications including shade structures, shade umbrellas and sail, wire balustrades, architectural rigging and green-walls or cable trellis. Econ 7 x 7 Wire Rope ends can be hand swaged and are ideal for use with Swage Sleeves and Thimbles.
Miami Stainless stocks a range of Econ wire rope that comes in variety of sizes from 3.0mm – 6.0mm and are constructed and supplied in 7 x 7, 7 x 19 or 1 x 19. Wire Rope can be purchased by the metre or in 305 metre rolls.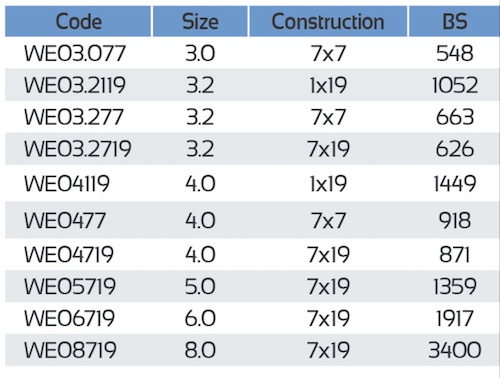 hiii