Turnbuckle 5mm Hook/Eye ProRig AISI 316
Brand:
Miami Stainless
Product Code:
S311HE-05PR
Reward Points:
0
Availability:
In Stock
Price:
$3.96
Ex Tax: $3.60
Turnbuckle 5mm Hook/Eye ProRig AISI 316
Miami Stainless AISI 316 marine grade stainless steel Turnbuckles Hook/Eye, are specifically suited for adjusting the tension and length of stainless steel wire rope, balustrade systems and other tensioning methods. Miami Stainless Turnbuckles consists of two (2) threaded AISI 316 grade stainless steel forged Jaw, forged Eye or welded Hook Terminals screwed into each end of a forged stainless steel frame. 

Miami Stainless range of Turnbuckles include Econ and the ultra high quality ProRig brand.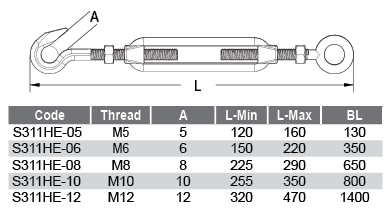 BL – Breaking Load
*It is the Purchasers' responsibility to determine whether the testing procedure and breaking load is suitable for purpose.