Swage Terminal 5.5 x 23mm suits 3.2mm Wire
OverView
Swage Terminal 5.5mm x 23mm to suit 3.2mm Wire ProRig AISI 316
Swage Terminal 5.5mm x 23mm to suit 3.2mm Wire ProRig AISI 316

ProRig Rod Terminals suit ProRig Original Design Flip Toggle™ and ProRig Original Design Tension Rod™ stainless steel wire balustrade systems. ProRig Rod Terminals are a high quality AISI 316 stainless steel component which revolutionises traditional streamline wire balustrade systems.
ProRig Rod Terminals with the ProRig Flip Toggle™ are able to be used with steel posts, walls or panels and useable with most existing stainless steel balustrade systems. The ProRig Flip Toggle™ systems patented design allows for easy installation and is the most streamline machine swaged stainless steel balustrade system on the market.
Check out our resource and video tabs below to see more of the ProRig Original Design Flip Toggle™ System.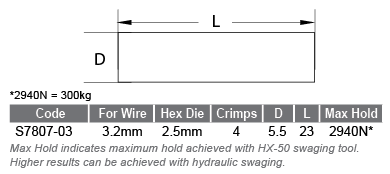 hiii